Using Google Ads might be the best decision you make for your business.
This is not an exaggeration.
People use Google to search 3.5 billion times a day. Each search offers opportunities for you to get your brand in front of more users.
This means increasing leads, conversions, and sales.
That's where Google Ads comes in.
Google Ads allow you to advertise and promote your products and services when users search relevant keywords. When done right, it has the potential to turbo-charge leads and sales.
Let's take a look at what Google Ads are, how they work, and jump into the exact process you can use to set it up for your business today.
Google Ads is a paid online advertising platform offered by Google.
Originally called Google Adwords, the search engine company rebranded the service as Google Ads in 2018.
The way it works remains essentially the same: When users search a keyword, they get the results of their query on a search engine results page (SERP). Those results can include a paid advertisement that targeted that keyword.
For example, here are the results for the term "fitness coach."
You can see that all the advertisements are on the top of the SERP. They also look nearly identical to organic search results save for the bolded "Ad" at the top of the post.
This is good for the advertiser because the first results on Google typically get the vast majority of the traffic for search queries.
However, purchasing advertising on Google doesn't necessarily ensure the top spot. After all, you'll likely have a lot of other marketers competing for the same keyword through Google Ads.
To understand those rankings, let's take a look at how Google Ads work exactly.
Google Ads operates under a pay-per-click (PPC) model. That means marketers target a specific keyword on Google and make bids on the keyword — competing with others also targeting the keyword.
The bids you make are "maximum bids" — or the maximum you're willing to pay for an ad.
For example, if your maximum bid is $4 and Google determines that your cost per click is $2, then you get that ad placement! If they determine that it's more than $4, you do not get the ad placement.
Alternatively, you can set a maximum daily budget for your ad. You'll never spend more than a specific amount for that ad per day, helping you get a better sense of how much you should budget for your digital ad campaign.
Marketers have three options for their bids:
Cost-per-click (CPC). How much you pay when a user clicks on your ad.
Cost-per-mille (CPM). How much you pay per 1000 ad impressions.
Cost-per-engagement (CPE). How much you pay when a user performs a specific action on your ad (signs up for a list, watch a video, etc).
Google then takes the bid amount and pairs it with an assessment of your ad called a Quality Score. According to Google:
"Quality Score is an estimate of the quality of your ads, keywords, and landing pages. Higher quality ads can lead to lower prices and better ad positions."
The score number is between 1 and 10 — with 10 being the best score. The higher your score is the better you'll rank and the less you have to spend converting.
Your Quality Score combined with your bid amount creates your Ad Rank — the position your ad will appear in the search results page.
And when a user sees the ad and clicks on it, the marketer pays a small fee for that click (thus pay-per-click).
The idea is that the more users click on a marketer's advertisement, the more likely they will accomplish the advertisement's goals (e.g. become a lead, make a purchase).
Now that you know how Google ads work, let's take a look at the different types of Google ads you can use for your campaign.
Google offers a variety of different campaign types that you can use:
Search campaign
Display campaign
Shopping campaign
Video campaign
App campaign
Let's take a look at each campaign type now to see how they work—and which you should choose.
Search campaign
Search campaign ads appear as a text ad in the results page for the keyword.
For example, here are the search campaign ads for the keyword "laptops":
These are the ads you're probably most familiar with. They appear on the search result page with the black "Ad" symbol next to the URL.
As you can see, though, text based ads aren't the only type of ads in the Search Network. You can also have your ads appear in Google Shopping. That brings us to…
A shopping campaign allows you to promote your products in a much more visual way.
These ads can appear as images on the search results page: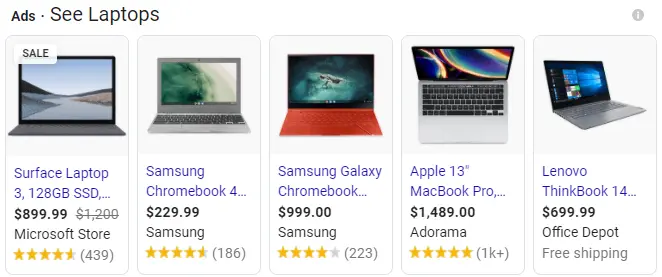 And they can appear in Google Shopping: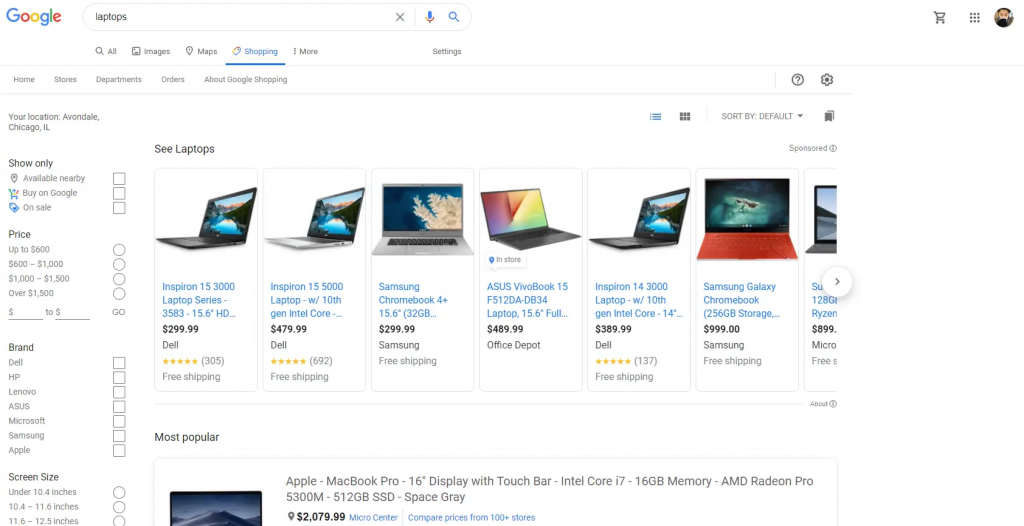 If you have a physical product, Google Shopping ads can get qualified leads by showcasing your product directly to customers.
The Display Network leverages Google's vast website partners to showcase your ad on different websites all over the Internet.
And there are a variety of different ways they appear. First, your ad can appear on on third-party websites like so: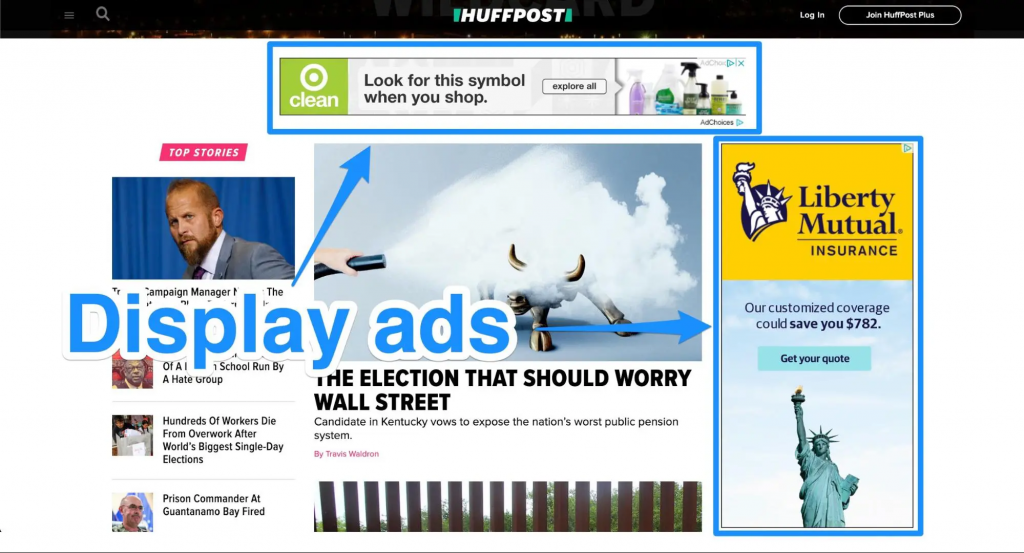 Some benefits of using the Display Network is its reach. Google partners with more than two million websites and reaches more than 90% of all Internet users to help ensure your ad gets in front of the most eyes as possible.
The ads themselves are also flexible in terms of style. Your ad can be a gif, text, a video, or image.
However, they don't come without their downsides. Your ads might end up appearing on websites you don't want them to or in front of videos that you don't want your brand associated with. This hasn't been more evident than with YouTube's various "Adpocalypses" throughout the past few years.
If you're careful about where you're putting your ads, though, the Display Network can be a great place to garner leads.